Whether you are a resident, a guest in our area, or just passing through, the Johnny Appleseed Historic Byway will enhance your experience. Although John "Appleseed" Chapman was born in Massachusetts on September 26, 1774, and died in Indiana on March 18, 1845, he spent a large portion of his adult life in and throughout north central Ohio. Today, Ohio State Routes 39 and 603 pass many of Appleseed's land holdings, apple tree nursery sites, and other significant historical locations associated with Appleseed's heroic life and deeds.
Let's celebrate in 2024, with Johnny "Appleseed" Chapman's 250th Birthday. Join us in 2024 for special events and programs located along and near the byway. It features traveling and permanent Appleseed exhibits, birthday parties, Johnny Appleseed reenactor appearances, apple-themed events, apple cider pressing demonstrations, apple treat locations, and more. Check back often for new and upcoming events.
Numerous commemorative monuments and historical markers already identify locations where Appleseed lived and worked. The byway passes within sight of former homes of those with whom Appleseed associated: Jedediah Smith, mountain man, and fur trader; Rosella Rice, Perrysville author of national renown in the 1800s; and Delaware Indians from Greentown, who played such an important role in the area's early history during the War of 1812. But, the Johnny Appleseed Historic Byway weaves through more than the past. Today, the route offers access to Ohio's canoe capital— Mohican Country, Mohican State Forest and Park, Pleasant Hill and Charles Mill Lake Parks, Malabar Farm, Amish country, and some of the prettiest farms and scenery in Ohio.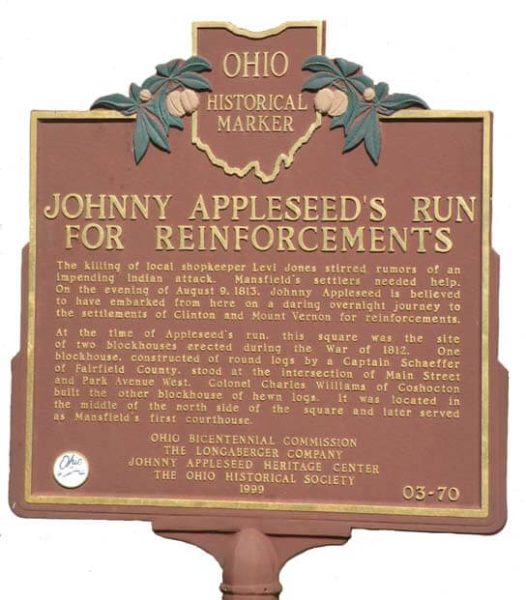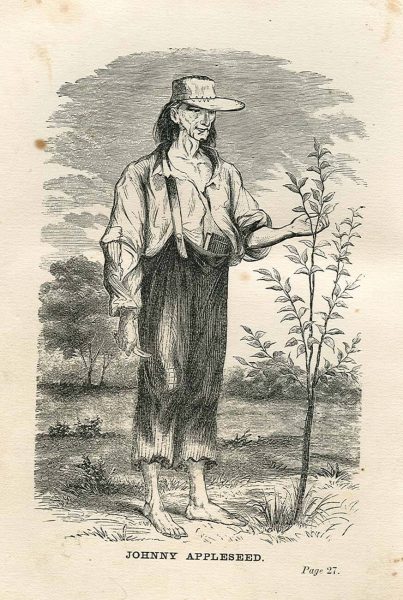 The Johnny Appleseed Historic Byway will help to preserve, conserve, and promote the scenic, cultural, historical, natural, architectural, archaeological, and recreational integrity and significance of Ashland and Richland counties, Ohio.
Focusing on State Route 39 from Loudonville to Mansfield as the primary byway, with spurs utilizing SR 603 north to Mifflin and south to Malabar Farm, the route will connect to existing Ohio byways. The Ohio Department of Transportation states that its Scenic Byway Program is, "A grassroots effort designed to increase the focus on Ohio's history and to preserve, enhance and protect the State's intrinsic resources for visitors and residents of the state by designation of highways, roads, and streets as scenic byway corridors.
The Johnny Appleseed Historic Byway can increase the cultural and economic impact of our region while enhancing its aesthetic beauty. It can fit easily into the existing mix of regional, historical, cultural, and conservation-driven organizations, such as Muskingum Watershed Conservancy District, those already mentioned, and many more. Other byway benefits include resource protection, community recognition, economic development/tourism, community visioning, and partnering. Also, in tandem with historical markers, education programs, and other means of interpretation, a byway can increase awareness, pride, and a sense of belonging and can introduce visitors to other resources unrelated to Appleseed. For a map and list of stops, please visit the website of the Ohio Department of Transportation for more details.