Park History 1938-2018
Pleasant Hill Park & Dam (1938-2018)
Pleasant Hill Lake is a 783-acre man-made lake located near Perrysville and between Ashland and Richland counties in Ohio. Dedicated January 28, 1938, Pleasant Hill Dam was built on the Clear Fork of the Mohican River. The dam which forms the lake is a 113 ft (34 m) tall earth-fill dam. It is located in Ashland but the lake extends into Richland. The lake, constructed by the United States Army Corps of Engineers, was built for the purpose of flood control. See video link below for historical footage:
Surrounding Mohican Area History
The erosional forces of the last glacial meltwaters 12,000 years ago hastened the carving of the narrow gorge of the Clear Fork of the Mohican River. This gorge cuts into the sandstone bedrock exposing huge outcroppings and creating steep cliff walls. The gorge is more than one thousand feet wide at the top and over three hundred feet deep. The striking Clearfork Gorge with its towering hemlocks and stands of old-growth white pine are of national significance. The National Park Service has thus dedicated the area as a Registered National Natural Landmark.
The Mohican State Park area was once the hunting grounds of the Delawares, whose more famous warriors included Janacake, Bill Montour, Thomas Lyon, and James Smith, who was the first white man to come to this area. Smith was captured by the Indians and later adopted into their tribe. Several Delaware villages were located in the Mohican vicinity.
Settlement began at the turn of the nineteenth century, but settlement did not increase until the Indians were driven from the area during the War of 1812. John Chapman, immortalized as Johnny Appleseed, frequented the region during the 1800s, caring for his apple tree nurseries. His name and the date, carved in the wall of Lyons Falls, were an attraction for years. Unfortunately, the etchings have been obliterated with the passage of time.
Mohican State Park was originally called Clear Fork State Park when the Ohio Department of Natural Resources was created in 1949 and the park was created from Ohio Division of Forestry lands. In 1966, the name of the park was changed to Mohican to alleviate confusion between Clear Fork Reservoir in Mansfield, Ohio and the state park.
Historical Construction Photos ( 1936-1938)
Morning Glory Spillway 1937 Construction Control Gate Tower Construction 1937
Assorted Video Clips
Morning glory spillway overflow at Berryessa Lake in California ( Same design as Pleasant Hill Spillway)
Pleasant Hill's Spillways has never overflowed to date.
Historical Books on Pleasant Hill Dam & Lake Park
The Dam and 50 Years Beyond Pleasant Hill Lake Park Making Memories- 1938-2018
and Beyond
By Lee Cavin By Louis M. Andres & Irv Oslin
Book $5.00 Published 1988 Paperback Book $10.00 Published 2018
Both Books are available for sale through the Park Office, Copies available at local libraries
All proceeds benefit the Pleasant Hill Park Education/Recreation Foundation Account
Historical Photos of Pleasant Hill Park
Cabin Area 1948 Boat Launch & Marina area 1940's
Boat Concession Building Village of Newville before lake impoundment
MWCD Fire Patrol Plane 1940's Paradise Queen Paddle Boat 1960's
Historical News Clippings

1952 News articles
Historical Map 1915 Mohican River Valley
Newville Iron Bridge Photo 1937
Covered Bridge Predecessor, Approximately 1913-1938 – What would become Ashland County Road 3006 crossed Clear Fork north of where the dam was built. The original bridge that spanned the river was likely rebuilt or replaced after the 1913 flood. The bridge — an iron truss span — can be seen in a dam construction photo taken around 1937 or 1938, when work was pretty far along. The bridge was dismantled and moved downstream to Mohican State Park near the primitive campground. It was replaced in 1967 by Mohican's iconic covered bridge.

The iron "Newville" bridge next to the construction of the new Mohican Covered bridge circa1967 (photo below)

Pleasant Hill Lake Park Airstrip Photo 1970's
Original Airstrip, 1956-1979 – Pleasant Hill was the only Muskingum Watershed Conservancy District lake with an airstrip. In 1979, MWCD closed it due to safety concerns. There had been numerous plane crashes, plus the airstrip went right down to the shore at a busy part of the lake — near the campground, public boat ramp, and marina. In 1981, MWCD opened a new airstrip in a farm field west of the original. It was about 1,000 feet longer. That strip was abandoned in 1994
Gold Mining Sluice operation along Dead Mans Run in 1905 (Clear Fork River)
Bellville was well known for being part of the Ohio gold rush. In 1853 Gold was discovered at Bellville, Ohio 10 miles north of Pleasant Hill Lake on the Clear Fork River. Leases were taken on all the land and mining was carried on in a small way & continues even today. The first gold was panned on Dead Man's Run, which caused people from all over to come to pan for gold. The gold was discovered by James C. Lee. Even though the gold that was found was almost pure, little more was discovered. Dead Mans Run, adjacent to Bellville Road, north of Bellville and Wildcat Hollow, 1 mile west of Butler.
The Swank Claim is located on Gatton Rocks and Cutnaw Rd. in Bellville, Ohio. It covers approximately 1 mile of the Clear Fork River on the upper claim and 1 mile of Clear Fork River on the lower claim. This claim is known for burgundy colored garnets and fine flour gold. This claim has also produced, two quartz rocks with gold nuggets layered in them. One valued at $50,000.These claims are located on private property and are only open to GPAA members and during MWCD sponsored special public events.
Johnny Appleseed Historical Byway
Whether you are a resident, guest to our area, or just passing through, the Johnny Appleseed Historic Byway will enhance your experience. Although John "Appleseed" Chapman was born in Massachusetts on September 26, 1774, and died in Indiana on March 18, 1845, he spent a large portion of his adult life in and throughout north central Ohio. Today, Ohio State Routes 39 and 603 passes many of Appleseed's land holdings, apple tree nursery sites, and other significant historical locations associated with Appleseed's heroic life and deeds.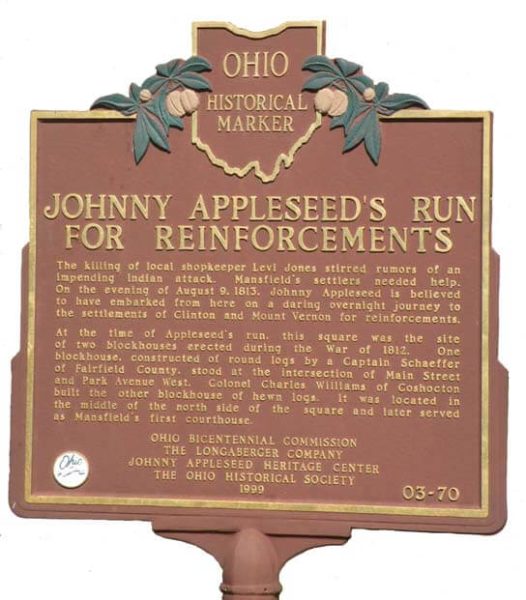 Numerous commemorative monuments and historical markers already identify locations where Appleseed lived and worked. More are planned. The route passes within sight of former homes of those with whom Appleseed associated: Jedediah Smith, mountain man and fur trader; Rosella Rice, Perrysville author of national renown in the 1800s; and Delaware Indians from Greentown, who played such an important role in the area's early history during the War of 1812. But, the Johnny Appleseed Historic Byway weaves through more than the past. Today, the route offers access to Ohio's canoe capitol— Mohican Country, Mohican State Forest, and Park, Johnny Appleseed Heritage Center and Amphitheater, Malabar Farm, Amish country and some of the prettiest farms and scenery in Ohio.
Link to more information on Johnny Appleseed and the Historical Byway
http://www.dot.state.oh.us/OhioByways/Pages/Johnny-Appleseed.aspx